Genes2Me Combines Genetic and Lifestyle Testing To Improve Disease Diagnosis and Treatment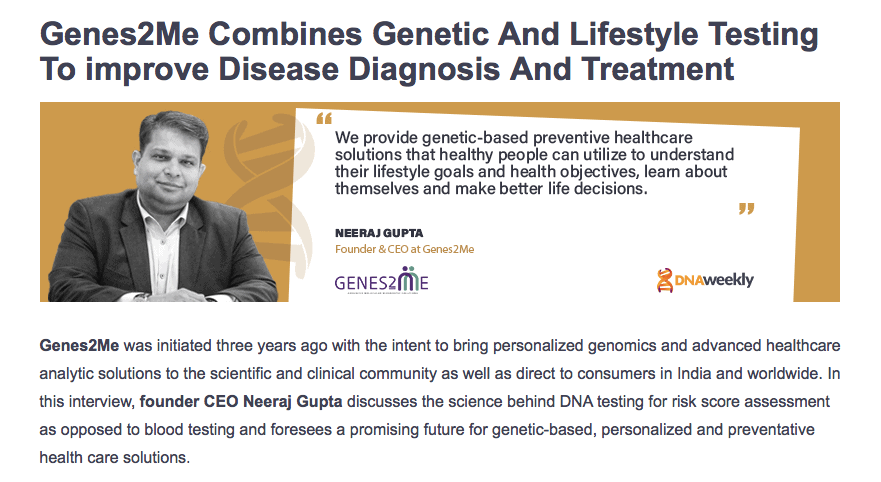 Genes2Me was founded three years ago with the motive of bringing personalized genomics and advanced healthcare analytic solutions to the medical community as well as directly to the consumers across the globe. In this interview, the CEO Neeraj Gupta has discussed the science behind genetic testing and its advantages over blood testing.
What is the idea story behind the Company?
People have a perception that blood tests are a preventive healthcare measure. However, this is not true. One must know its body in order to prevent any ailment. With this view in mind, Genes2Me was the first company to launch a comprehensive package of personalized genetic testing kits (Genes2fit and Genes2health) along with the routine blood tests.
Every individual has a different genetic makeup. With the help of our genetic testing kits one can assess their health condition and make the required changes in their lifestyle.
Our Genes2Me Clinical Exome Sequencing Test helps to analyze the genetic aspect of rare diseases that makes it easier for the physician to treat the patient. Genes2Me is also involved in prenatal testing that helps to predict the risk of a particular genetic disorder even before birth.
What is the company's Contribution during COVID-19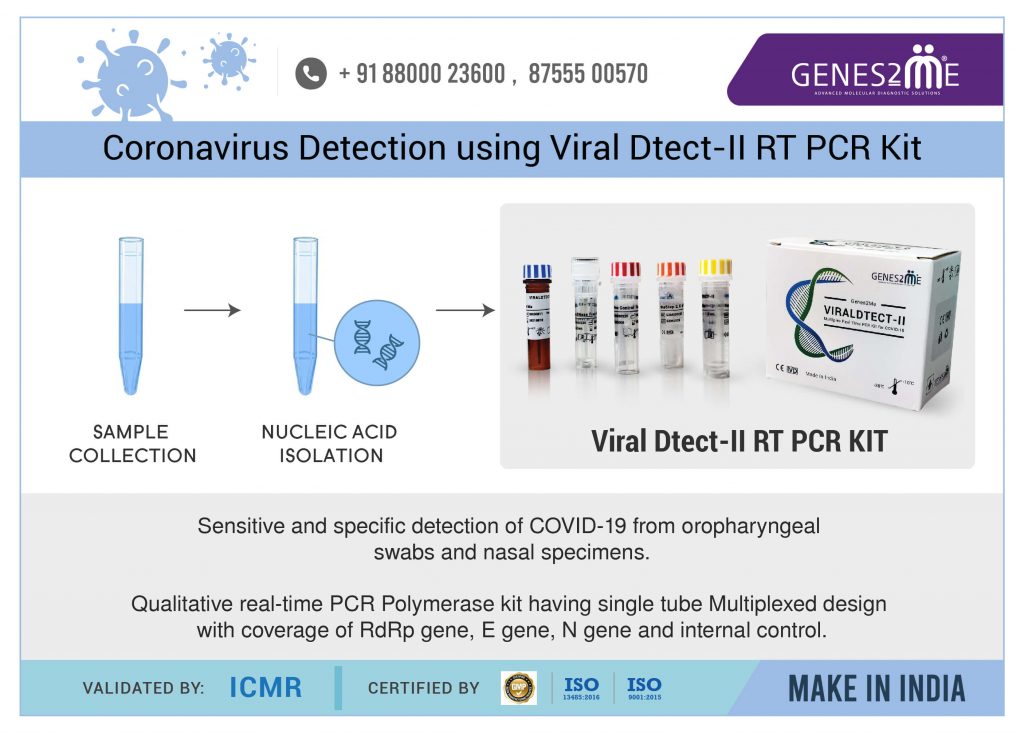 Genes2Me is actively involved in developing COVID testing kits ever since the pandemic started. We have also exported the kits to a few European countries. During the second wave our production increased from 9 million per month to 6 million per week and has delivered more than 50 million COVID testing kits till date.
We are also involved in sequencing a large number of samples from COVID infected individuals.
Mutation screening assayfor COVID-19 is yet another research that is about to get introduced in our company. Our assays can screen thousands of patients for COVID variants. This is a time saving and cost effective method of mutation screening and is generally preferred over sequencing that takes more than usual and is costlier.
What kind of clients do you usually work with?
Our clients include dieticians, gym trainers, nutritionists, pregnant women, clinicians, and doctors. For COVID solutions, we deal with the government of India and also directly with the end consumers.
How do you share reports with your clients?
In our reports, we share nutrition-based guidelines along with the scientific results. These guidelines are created by our nutritionists and genetic counsellors based on different genetic makeups. Our customers also get an opportunity to talk to our genetic counsellors in order to clarify their queries related to the report.
We make sure that our clients are contented and not scared after having their reports.
How accurate are the test results? Are they reversible?
Genetic testing is based on the number of markers available in the research database. People with high risk of a certain disease have to go through different parameters, biomarkers, and genotypes ever been reported in the scientific literature world. The disease can either be acquired through lifetime or can be genetic. The likelihood of having the disease and the risk can be provided through genetic test and we provide our clients the risk. The number of markers identified determines the risk score. By taking dietary precautions and periodic clinical monitoring, you can avoid the eruption of certain disease in your life.
How can you standardize personal healthcare? How is it made accessible to anyone?
Patients usually do not take the test results seriously because it is just a prediction of the likelihood of developing a certain disease. Researching and classifying the diseases thoroughly from nutrition point of view can be very helpful. It is just to make people aware and take required decisions.
What do you think is the future of your industry?
COVID-19 has taught us the importance of health and healthcare. It is being taken really seriously around the world. With more knowledge people will now be opting for genetic testing as well. This will speed up gradually and get stronger in the coming years.